Posts Tagged 'Outdoor Living'
Wonderful Outdoor Adventures Await Exploration
John Gusky, award-winning guest photographer, shares this beautiful image of a grotto near the Westcave Preserve in southwest Travis County with LandscapeBliss.com. A natural grotto is a small cave near water; it is also a common design used in man-made landscape sculptures. The lush foliage covering the rock formation along with sky-reaching trees and emerald pool enclave create an ambience reminiscent of, and generally only seen in movies of enchantment and adventure.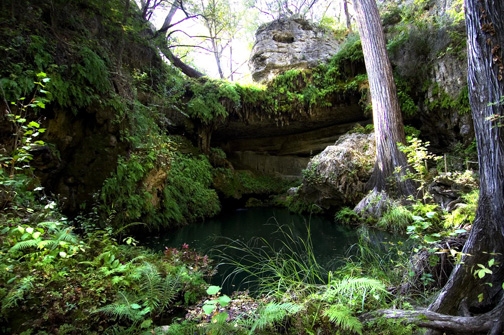 Designing Beautiful Landscape Designs and Outdoor Living Spaces
A beautiful garden or outdoor living space that truly resonates deeply with one's soul goes beyond the obvious visual appeal and touches each of the senses. When designing your landscape, consider elements that appeal to taste, touch, sound, and of course, visual.
Designing for Taste:
Ornamental in appearance, an herb garden is fragrant and rich in flavor for culinary uses. There are many easy-to-grow herbs to choose from. Some of the the more popular herbs include basil, oregano, and mint and can be grown in the ground, raised boxes, or in container gardens.
Innovations in outdoor kitchens now allow state-of-the-art grilling centers complete with refrigerators and sinks. Outdoor dining has never been easier, nor a more wide array of selections available for a complete landscape design.
Designing for Touch:
Sink into plush, over-sized cushions on elegantly designed wood, iron, or wicker stylish and comfortable furnishings. Select pieces perfect for your outdoor room from elegant selections in chairs, rockers, loungers, sofas, and loveseats.
Outdoor ceiling fans create a delightful breeze on those still summer nights when the air is thick. The air circulation contributes to an overall temperature reduction increasing outdoor comfort on warm evenings.
Misters installed discreetly in any landscape design, deck, or patio environment provide added comfort. The evaporation process absorbs the heat and may lower the outdoor temperature by as much as 30 degrees according to Rapid Cool Misting Systems.
Designing for Sound:
Landscape accents such as tall shrubs, trees, and decorative wooden fences can serve as a buffer to diffuse nearby traffic, barking dogs, and noisy neighbors.
Soothing sounds can be added with an outdoor music sound system, wind chimes, and fountains. Woodstock Chimes offers an impressive array of precision-tuned wind chimes. Popular selections include the repeating melody of Pachelbel's Canon in D, Amazing Grace, and the Salsa Chime, resonating with the syncopated Latin rhythm sounds.
Fountain selections today are a visual work of art delivering the peaceful sounds of a waterfall. They can be as grand as in-ground falls surrounded by lush landscape and natural stone, or as simple as a tabletop accent–with many options in between.
Designing for Smell:
The fragrance of a garden is a delightful pleasure. A natural aromatherapy, some of the more fragrant flowers include Azaleas, Jasmine, Jonquils, Hybrid Tea Roses, Plumeria, Sweet Alyssum, and Gardenias.
Designing for Visual:
Your distinctive style can transition from indoors to out with the selection of garden decor. Find design inspiration for unique decorative accent items available from a variety of retailers at Landscapebliss.com.
Available in low-wattage and solar, landscape lighting performs as both function and design. Kichler manufactures a variety of stylish outdoor lighting that includes chandeliers, lamps, wall sconces, and path lights available in aluminum, copper, brass, and stainless steel. A safety feature providing navigation, outdoor lighting also delivers a lightwash effect that adds dramatic architectural appeal.
For added visual beauty and harmony, choose flowering plants that attract butterflies and birds for a symphony of nature.
A memorable, luxurious landscape design is one that stirs the senses as it touches and renews the soul.